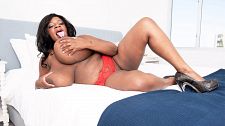 Tyra Tinley's massive tits are 38N-cups. Suck on that for a few seconds. In this scene, Tyra grabs handfuls of her natural wonders and brings her nipples to her lips to kiss and suck. She bounces and jiggles by the bed, dangles and swings them vigorously. Those heavy hooters put Tyra in the same ultra-rare breast zone as Julia Jones, Alice85JJ, Mahogany Masters and Eva Berg. Your head, not to mention your dick, would disappear between them.

"I don't play any sports," said Tyra, who also calls herself Becky Built. "I do some walking and stretching. Nothing strenuous. I like bowling."

Tyra's breast growth began at a very early age. She was born in Washington, DC and lives in Atlanta. "I love traveling and going to concerts. What I want to try is skydiving. I've always been an adrenaline seeker and this would definitely do the trick."
See More of Tyra Tinley at PORNMEGALOAD.COM!