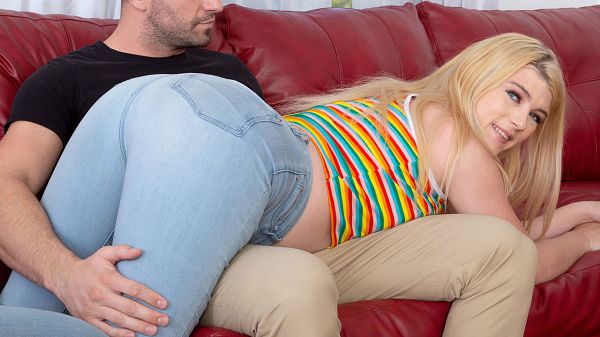 Occupation: Waitress; Age: 21; Born: April 7; Ht: 5'9"; Wt: 145 pounds; Bras: 34C; Panties: Commando or thongs; Anal: Yeah, Fuck my butt! BJs: Usually swallow; Masturbate: Every day.

Remy knows she looks young, and she leans into it. "I definitely wear bright colors and make myself look young. Guys like young-looking girls and I want to make my guys happy. And, yes, I say 'guys'--plural--because I'm dating a lot of different men at the moment. Most of them are a lot older than me, and they love having a little blonde princess they can spoil and do dirty things to."

"Your stud's cock was thicker than what I'm used to. As soon as he pushed it into my pussy, I thought, 'Oh, no. My poor ass is gonna get it.' But I came right before he put it in my butt, so I was nice and relaxed. I used a bunch of thick lube to make it easier, and it felt so good as he slowly started to fill me up. My pussy was dripping by the time he was balls deep inside me."

"You know what's crazy? I've had a couple of threesomes with two dudes, and I love anal, so you would think that I had done a DP by now, but I still haven't! Guys get weird about having their cocks so close together. Some day!"
See More of Remy Rayne at PORNMEGALOAD.COM!