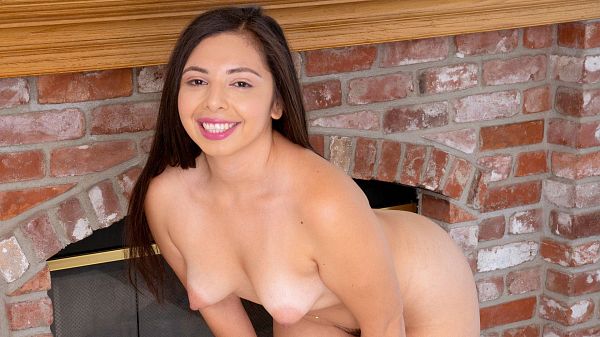 Occupation: Video editor; Age: 27; Born: September 28; Ht: 5'1"; Wt: 125 pounds; Bras: 32B; Panties: Thongs, mostly; Anal: I haven't tried it yet; BJs: Swallow, unless there's a lot; Masturbate: I do it to porn; Lives: Pasadena, California.

You just saw Luna a couple of days ago. We'll admit, we screwed up the scheduling a bit by having her second post so close to the first, but she's so cute, we figured you wouldn't mind. Her torpedo titties, juicy bubble butt, wet pussy and tiny bush are so scrumptious, we wish we had more content to share with you!

In case you missed her info last month, Luna is an El Salvadorean cutie who came to California when she was a young girl. That accounts for her rich caramel-colored skin tone. Her puffy tits are genetic, too. "My mom's and sisters' boobs look just like mine," she shared excitedly after our camera guy complimented her chest. Then she added, "I love when guys cum on them."

"My fantasy is to be under a table while a bunch of guys are playing poker and I'd suck each one off while they carry on like nothing crazy was happening. I'd love to swallow one load and then move on to the next guy."
See More of Luna Leve at PORNMEGALOAD.COM!